Health & Safety responsible – Cluj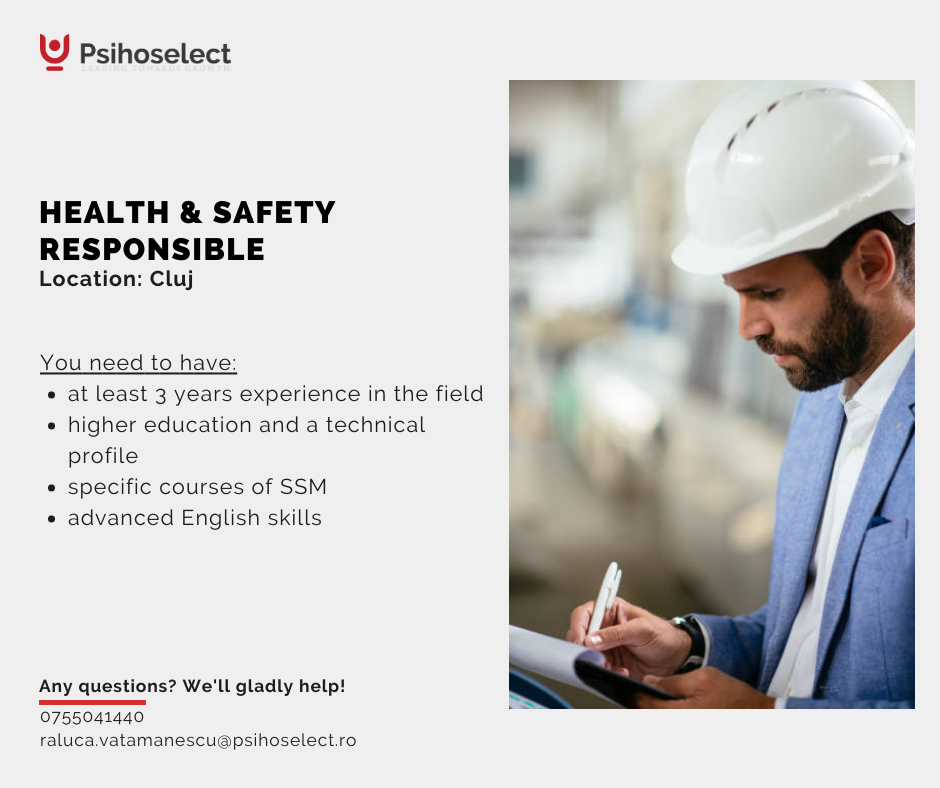 Location Cluj County
Responsibilities:
Organizes job-site prevention and protection activity;
Coordinates the design, implementation and communication of all activities designed specifically for occupational health and security;
Keeps and manages all relevant documentation on emergency situations and fire management;
Identifies and continuously updates the professional risks of all factory jobs and establishes processes designed to reduce or eliminate actual or potential risks of injuries, accidents, incidents or nonconformity;
Identifies, records and investigates any accidents, incidents or specific nonconformity in order to ensure the main cause has been determined;
Initiates, recommends and checks the implementation of corrective and preventive actions for accidents, incidents and specific nonconformity;
Takes control of all activities which pose a risk of human injury or contravention of specific legal requirements, until corrective action is implemented, or the risk of injury is eliminated;
Performs daily, weekly and monthly inspections and audits;
Makes sure response plans for emergency situations are adequate and in accordance with the expected/encountered degree of emergency and acts according to the Emergency Plan;
Coordinates the testing of emergency/evacuation plans and keeps records of these tests and defines specific corrective and improvement plans;
Collaborates with all authorities on authorizations, necessary accords for all activities and services according to Romanian Legislation;
Informs relevant authorities in case of workplace accidents or about work or major accidents (including fires);
Maintains communication with Local Inspectorate of Civil Protection/ITM/ISU;
Provides a legislative up-date for own activity;
Organizes training courses for all employees, visitors and contractors and ensures all employees are trained with respect to work safety and fire protection;
Makes sure work permits and authorizations are obtained from relevant authorities;
Coordinates the process of obtaining ISCIR authorizations for employees operating registered equipment;
Coordinates course activities related to first-aid actions.
Requirements:
College graduate, as well as graduate of specific SSM courses according to current legislation;
Solid knowledge base in SSM, including relevant legislation;
Minimum 3 years of field experience, preferably in a production environment;
Advanced knowledge of English;
Analysis and synthesis capacity;
Good communication and relational skills;
PC operating skills (Microsoft Office, Microsoft Project, Computerized Design);
Driver's license (cat. B).
---