Sales Support Specialist – Vorbitor de limba Italiană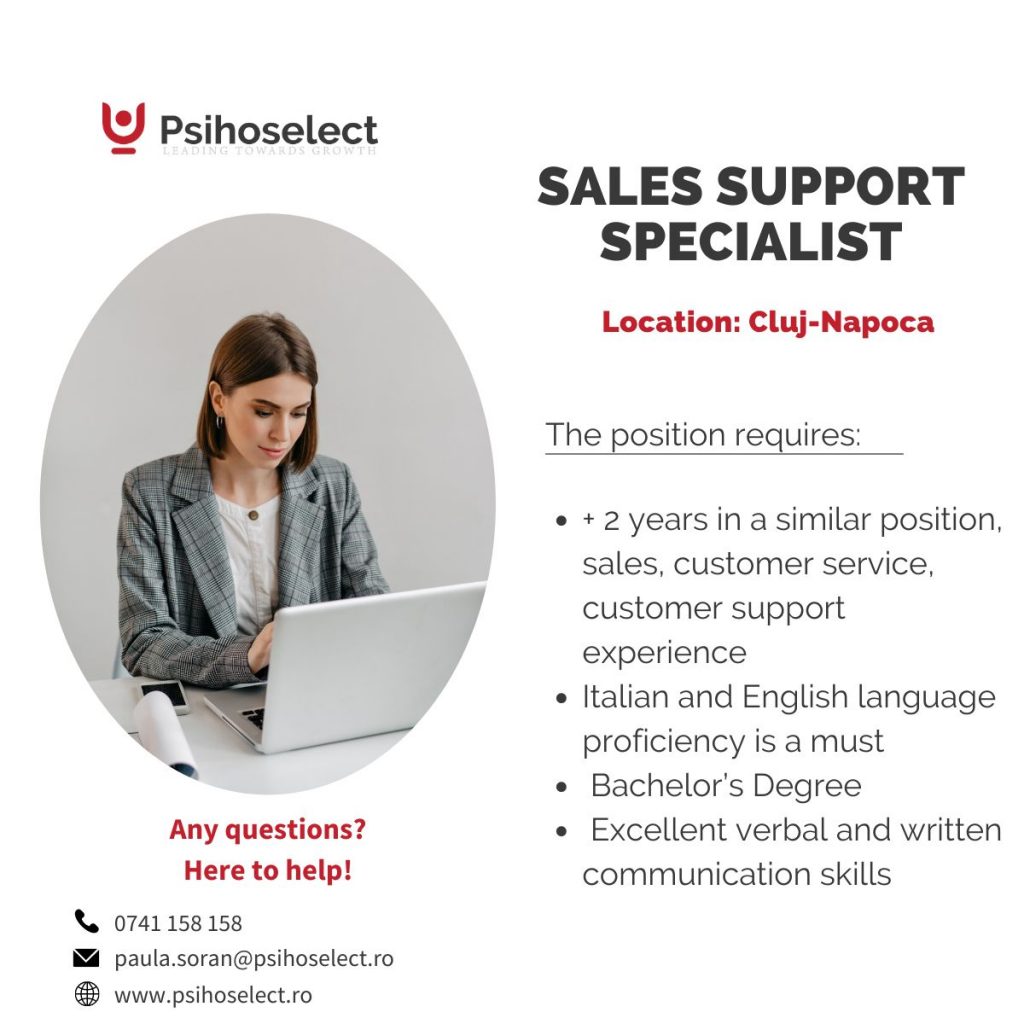 Role: Primary customer service contact and responsible for communication and resolution of customer requests and complaints. Supports National Sales Manager and the team via daily task execution and support. Performs delegated financial & administrative related tasks and stock management.
Essential Functions:
• Commercial support: providing commercial and administrative support to customers, sales staff, agents and distributors in such way that agreements are fulfilled, the customer is helped to satisfaction and the sales process is optimally supported;
• Build positive and rewarding relationships through phone and email contacts with singular and repeat customer interactions;
• Provide timely and complete responses to customer and prospect inquiries originating from web form submissions, email, and phone;
• Help develop product and service solutions for customer projects and other needs. Oversee, document, and coordinate the development of these solutions with other departments as necessary;
• Assist with system BI and CRM updates to verify customer type, market segment, and other key data;
• Enter customer and prospect information into CRM system and document all relevant customer and prospect interactions;
• Update customer credit terms and conditions as directed;
• Complete customer quotes for standard products and communicate them either directly or through outside sales team;
• Provide verbal or written information for product to customers, providing all necessary documentation as required by customer;
• Enter customer orders and provide confirmations and shipment status as required;
• Provide support to customers as necessary after the sale to maintain a positive relationship and ensure solutions provided continue to satisfy customer requirements.
Qualifications, Knowledge, Skills and Abilities required:
• + 2 years in a similar position, sales, customer service, customer support experience;
• Italian and English language proficiency is a must;
• Bachelor's Degree;
• Excellent verbal and written communication skills;
• Result and goal oriented and problem-solving attitude, in a proactive way;
• In-depth understanding of the sales administration process and customer service practices;
• Having a commercial focus: active response to opportunities and threats with the aim of improving profits, combined with financial insight and business-like approaches;
• Ability to adapt to changing internal and external circumstances, and moreover openness to new ideas;
• Attention to details: avoiding mistakes by verifying their own work, carrying out tasks in organized, logical and neat way;
• Customer and service orientation: anticipating specified (and unspecified) needs of clients, ability to translate those needs into concrete actions in a commercially advantageous way;
• Computer skills: technical communication, fluent computer literacy in all Microsoft Office products;
• Driving license category B it is an advantage but not mandatory.
Paul Soran-0741.158.158
Website: https://psihoselect.ro/job-uri/sales-support-specialist-location-cluj-napoca/
---